Welcome to Isleham
Isleham is a thriving village with plenty going on. Here you'll find out about shops, pubs, restaurants and other local businesses and services.
We encourage you to Buy British & Buy Local
Fresh, Local and Affordable Meat & Eggs
Thompson's Farm Butchers - a few minutes walk from the Lodge
Fenrose Farm, 1 Fen Bank, Isleham, CB7 5SL - Tel: 01638 780 431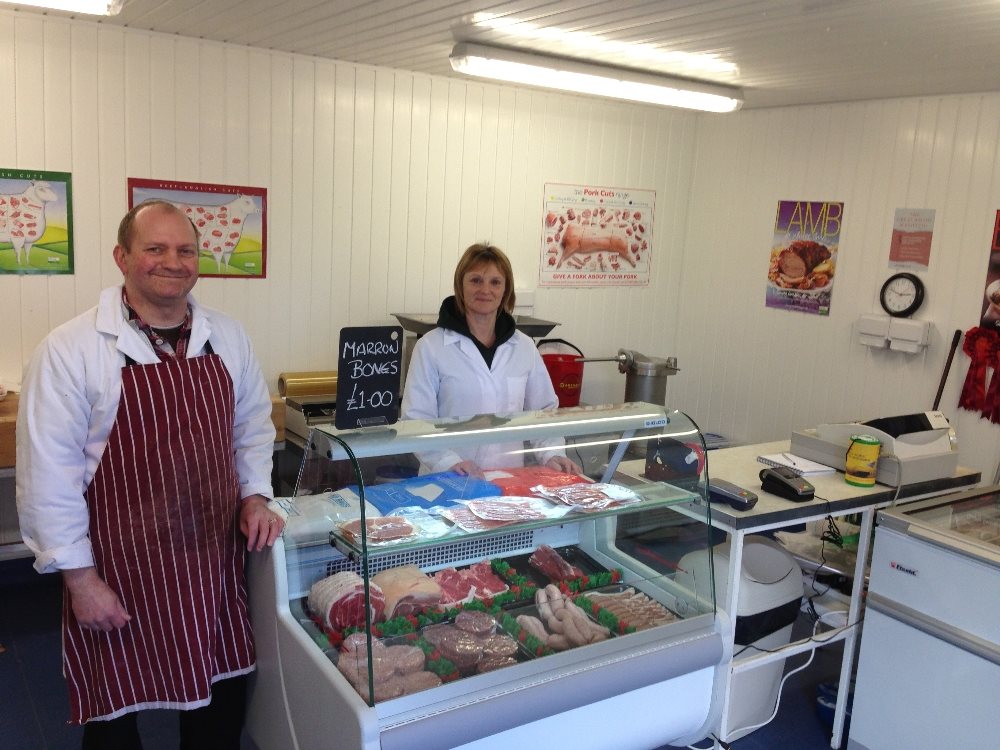 Thompson's Farm Shop (at Fenrose Farm) is a very short walk from your Lodge (couple minutes). Thompson's Farm run a 5-Star hygiene rated butchers shop on the farm. Selling only their own meat and eggs.
Some people worry about buying at farm shops because of the price. Don't worry! This isn't one of those farm shops! What you get at Thompson's is good homest farm produce, from the farm, sold by the farm, direct to you.
There are three generation of Thompson family living on and working the farm. In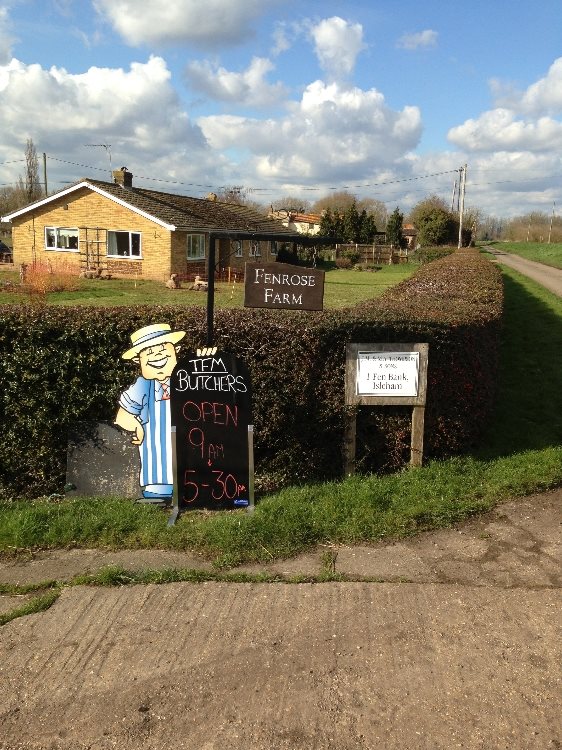 season, you'll just love Anna's Fenrose Lamb. Keep an eye out for what's fresh in and special offers on their black-board located at the gate of the farm.
Thompson's Butchers only sell their own produce:
Pork, Bacon, Ham, Free Range Chicken and Eggs &
21 day hung Hereford Beef. They also make their own sausages and chipolatas which are a wonderful addition to their eggs and bacon for breakfast.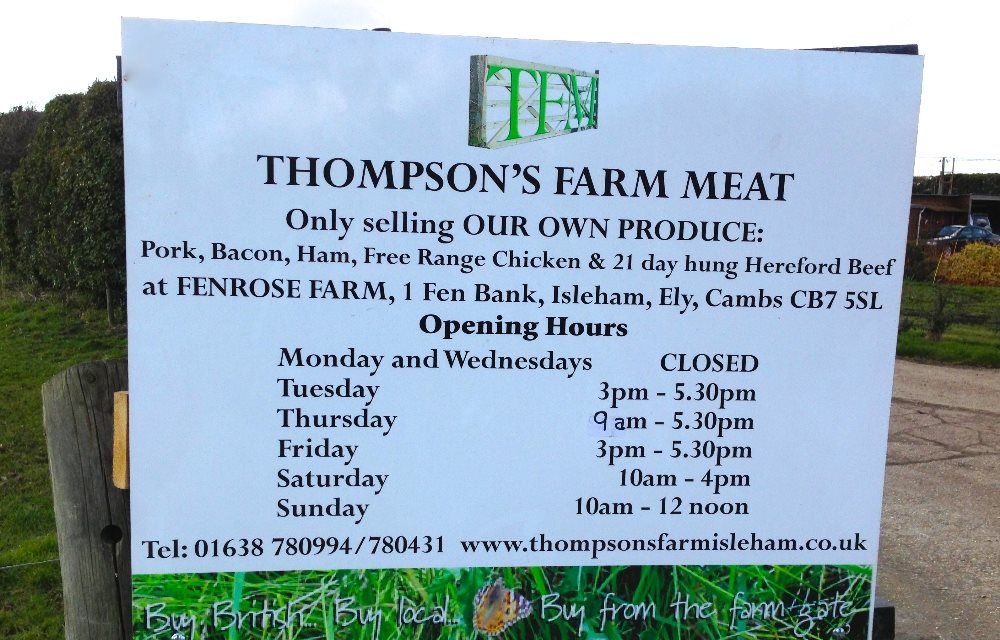 The Thompson family would like to welcome you to their farm shop and you'll also find special offers and promotions on certain products.
If you are about in the village on Saturday, Rosanna Thompson runs a stall in the village at the Priory Garage as well. So if you are getting your Saturday papers why not stock up on some delicious meat and poultry while you're at it ?!
Fruit & Veg - Isleham & Surrounding Area
Isleham Village has two large allotments. From Spring to late Autumn/Early Winter you'll see road-side stalls selling all manner of veg and fruit (when in season).
Location of Local Veg Stalls; Seasonal
Location 1. There are two stalls located opposite the allotments at the end of Waterside as you head from the village to the Marina.
There are two great free-house pubs and a fine dining restaurant in the village. The two pubs also serve good quality pub food and there are live bands on almost every week on the weekends.
The Griffin (Free house) - Tel: 01638 780447
11 Church St, Isleham, CB7 5RX (google map)
Opening times: 7 days a week, 12pm till late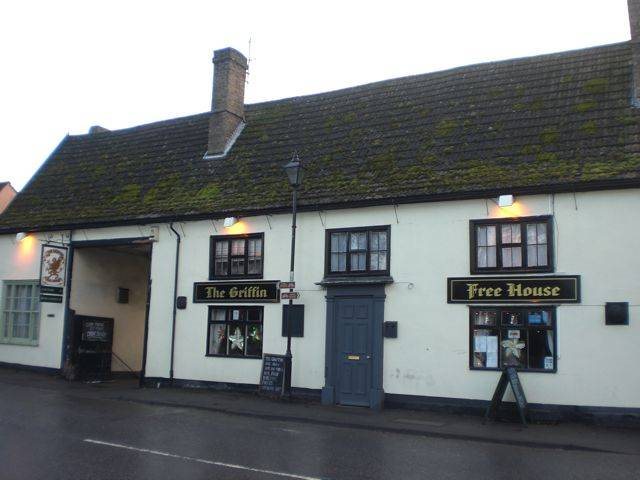 Owned and managed by Michael and Gina Missing, the Griffin is a warm pub boasting a wide choice of ales, larges, stouts and ciders on tap as well as the wines and spirits. The griffin also serves hot drinks (cappuccino, latte, tea etc).
Good Pub Food is served daily from 12pm - 2pm and 6pm - 9pm with a traditional roast served on Sundays.
The griffin has a beer garden with a children's play area and well behaved dogs are welcome at the pub. There is ample parking in the rear of the pub. The Griffin has a darts board and pool table and all major sporing events are shown the the large flat-screen television.
The Griffin hosts bands on a regular basis. Please see the information board in the Lodge for current bands at the Griffin.
The Rising Sun (Free house) - Tel: 01638 780471
11 Sun St, Isleham, CB7 5RT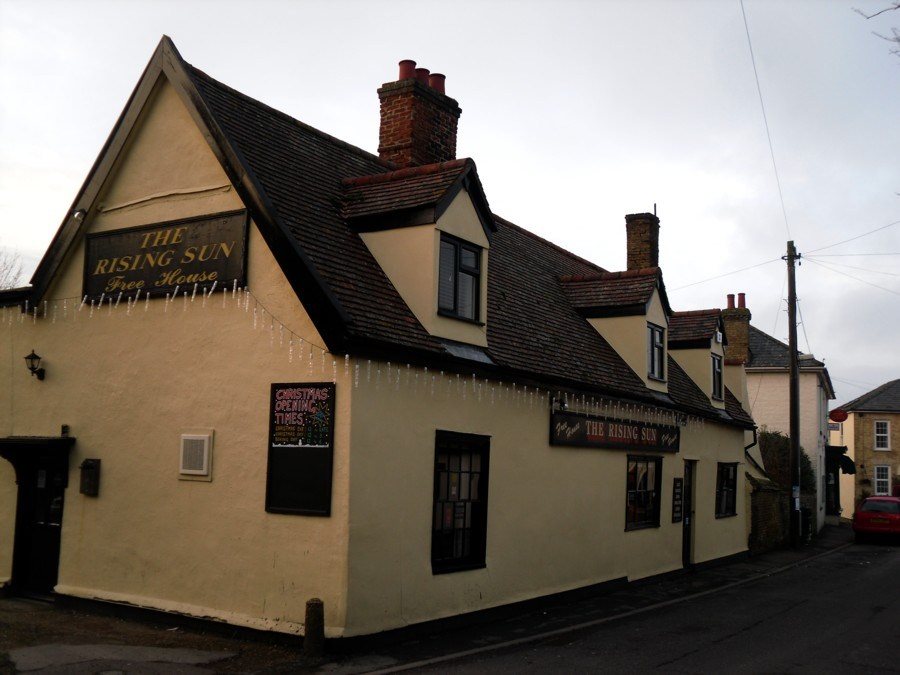 Owned and Managed by Mr & Mrs Patrick Pearce, the Rising Sun free house is an active pub that boasts an extensive drinks menu and serves good hearty pub food. 

The Rising Sun in Isleham is an active sports pub with all the Sky Sports channels and three different televisions ensuring there is no cross-over when major sporting events are on. 

Not only is the Rising Sun a great place to watch sport, you can also play darts on their competition level board or enjoy a game of pool in the front bar. The Rising Sun has a jukebox with a good mix of old and new. 

The Rising Sun hosts bands on a regular basis. Please see the information board in the Lodge for current bands at the Rising Sun.
The Merry Monk (Restaurant) - Tel: 01638 780900
30 West St, Isleham, CB7 5SB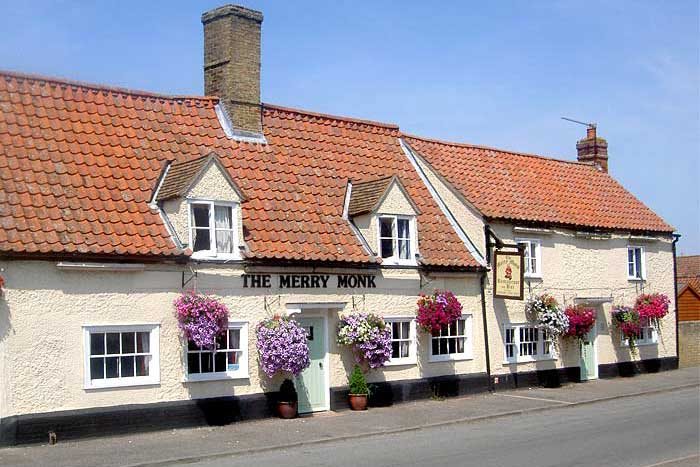 The Merry Monk is a genuine treat for the area. Hidden in the East Cambridgeshire Fens is this gem of a restaurant. Great food, comfortable and welcoming atmosphere with a menu to make your mouth water.
Adrian, the owner and head chef, serves the highest quality British cuisine with a twist. What exctly is that twist? you ask; You'll have to taste the food for yourself to find out!
The menu changes all the time, making the most of Fresh, local & importnatly; seasonal produce. You can get an idea of their menu by following this link: http://www.merry-monk.co.uk/menu . There is always something new and exciting to try at the Merry Monk. So no matter how many times you visit you'll always be supprised.
Pricewise, the Merry Monk offers top-end cusine at realistic prices.
Surrounded area
White pheasant restaurant (in Fordham village: 10 mins by car)
https://www.whitepheasant.com/
The golden boar (in Freckenham village: 10 mins by car)
https://www.thegoldenboar.co.uk/
Farm shop & Cafe (in Chippenham village: 10 - 15 mins by car)
https://www.lahogue.co.uk/ 
A couple of Soham curry houses and Chinese restaurant also offer free delivery to the marina (menus in guest file).Within 5 minutes walk there is a farm shop selling their own meats products,vegetables and eggs.From June onwards you can pick your own strawberries at Lidgate Farm on Prickwillow road.
The three Public houses are: The Rising sun (closest to Marina) with a reputation for good ,reasonably priced pub food and friendly service.The Rising sun(see www.risingsunisleham.co.uk) is the 2006 North Anglia Greene King community pub of the year (and third placed in national finals).The Griffin pub,which also serves good food, is located opposite the Anglican Church.
Finally if you are looking for a special meal, the Merry monk offers excellant quality ,upmarket restaurant type food see www.merry-monk.co.uk The nearby towns of both Newmarket, Ely and Mildenhall are well served by a larger variety of shopping amenities.
Mildenhall lies approximately 2 miles from the Fiveways interchange at the A11 where Thetford (11 miles) and Norwich are to the North East with Newmarket (10 miles) and London to the South and south west. Bury St Edmunds (12 Miles) to the west can be reached via the A14 east-west trunk round linking East Anglia to the Midlands. Cambridge lies approximately 22 miles to the west on the A14 trunk road.We are also only 6 miles away from Wildtracks offroad activity park see www.wildtracksltd.co.uk